Athens Photo World 2020
Fabio Bucciarelli and Dimitris Michalakis are the winners of this year's competitions for the "Yannis Behrakis" International Photojournalism Award 2020 and the Athens Photo World Award 2020
At the event that took place on Saturday, the 26th of September, at the Lighthouse of the Stavros Niarchos Foundation Cultural Center (SNFCC), and was broadcast live via live streaming both in Greece and abroad, Athens Photo World (APW) with Elisavet Saridou Behrakis and Yiannis Antonopoulos announced the winners of this year's competitions for the "Yannis Behrakis" International Photojournalism Award and the Athens Photo World Award. Both prizes are awarded due to the exclusive donation of the Stavros Niarchos Foundation (SNF), which fully supports the organisation of the APW.
The winners were the Italian photographer Fabio Bucciarelli with his work "We Take the Dead From Morning Till Night" and Dimitris Michalakis with his work "42 days". The two photographers will receive the sum of € 15,000 and € 5,000 respectively.
Both winners spoke about the importance of their awarding, both honouring the memory of Yannis Behrakis and the great legacy that he left in international and Greek photo reporting, and referring to the unexpected conditions under which they had to work this year.
Fabio Bucciarelli said he is "proud and happy to be the recipient of this year's "Yannis Behrakis" international award with my coverage of Covid-19 in its epicentre in Italy for the New York Times. Documenting the world around us to try to written and create iconic and emphatic images is what Yannis did along his career and being awarded with a prize bringing his name it's such a huge honor for me. I would like to thank all the New York Times team, from my editors, Gaia Tripoli and David Furst, to coders, graph designers and journalists who have been working on this important story. I dedicate this prize to all the people I met in Bergamo, from doctors to nurses to the family of patients that opened their doors to me and let me enter to try to witness this difficult and invisible enemy."
Elisavet Saridou Behrakis, President of the jury for the "Yannis Behrkis" Award on this year's winner:
"this is the second year that the "Yannis Behrakis" International Photojournalism Award is being granted, helping us to keep Yannis' memory alive, along with everything he stood for. As a lighthouse showing the way.
He wholeheartedly believed in the power of good photojournalism.
Fabio Bucciarelli's work is representative. It documents the most important event of 2020 and captures the size and severity of the situation. It doesn't leave space for doubt, it warns us and makes us responsible, both as citizens and as a state."
In the same context was the statement of Alice Gabriner member of the jury of the YBIPA competition
"As the coronavirus spread across the globe in early spring, visual evidence of its impact was not only limited, but difficult to access. To show the staggering reality of Covid-19, Fabio Bucciarelli persevered, while taking personal risks to do so. In the end, his foreboding images from the epicenter of the virus in Italy's Bergamo region will remain permanently etched in our shared memory. Yannis Behrakis often said that his mission was to tell the story so that no one could ever say: "I didn't' know." In that spirit, we have chosen to recognize Fabio Bucciarelli with this year's Yannis Behrakis award. His commitment in producing this body of work represents photojournalism at its most essential. Along with the other judges, Enric Marti and Ahmad Massood, we looked at a wide range of stories submitted by a diverse group of nearly 300 photographers. The other entries we selected for top honors included the rise of unrest in Haiti by Dieu-Nalio Chery, and the arduous journey of migrants through Yemen by Nariman El-Mofty. These photographers showed us imperative news stories which needed to be recorded and seen. Like Yannis, these three photojournalists demonstrated a compulsion to document with bravery, conviction, ingenuity, dedication, and above all compassion. Congratulations to you all, and thank you for your hard work".
Dimitris Michalakis, winner of this year's APW Award said: "It is with great pleasure that I receive this award, as it is a reward of a project that I started working on driven by my personal need to comprehend the new situation that had already began to have a deep impact on our lives. For me, to photograph the situation created by Covid19, both inside hospitals and outside in the empty streets was a way to understand what was happening and to communicate with the world around me in a time of compulsory isolation. Furthermore, it is a great honor to receive this award from the organization that aims to honor Yannis Behrakis' legacy. Behrakis was a real friend for me and, beyond his great work, I always keep in my mind our long talks about many things besides photography and photojournalism. I would also like to say a couple of words for Antonis and Byron. I liked both their projects, especially because I myself work with black and white from time to time. Well done to both and I hope they are not sad for not winning this year, there will be plenty of opportunities in the future. This is what our job is about: constant and persistent creativity for a few moments of appreciation. But we love this job and we continue to do it passionately. A warm "Thank you" to all those who actually helped me in seeing this project through and I truly hope that soon this experience will be just a memory locked in our photographs and not our everyday reality."
Louisa Gouliamaki, Chair of the jurors committee for this year's APW Award pointed out that "The quality of all projects submitted was very good, with interesting topics coming both from already established photographers and the younger generation. The winner and two runner ups were selected based on creativity, originality and clarity of expression. Congratulations to all and good luck for their future projects "
In addition to the two big winners, finalists for the "Yannis Behrakis" Award were Chery Dieu Nalio for "Haiti: Nation on the Brink" and Nariman Ayman El-Mofty for "Disembarking in Hell". Finalists for the Athens Photo World award were Antonis Pasvantis for his work "Sombre Caste" and Byron Smith, an American photographer who lives and works in Greece with his work "The Backstop".
The photos of the two winners and the four finalists are available on the site of Athens Photo World, www.apw.gr
With the opportunity of the contest for the Athens Photo World Award, the organisation launched its collaboration with Doctors Without Borders , with whom Antonis Pasvantis, the first finalist for the APW Award, will collaborate on a future mission, while the supporter of the event, Prodromos Galaios offered a Canon EOS M50 camera to Byron Smith, the second finalist.
The next Athens Photo World will take place from the 21st to the 30th of May 2021 and entries for both competitions will open on the 31st of December 2020.
Athens Photo World remains committed to promoting and supporting photojournalists worldwide, especially in times that try humanity as a whole.
The APW would like to thank its Donor, Stavros Niarchos Foundation (ISN) and its valuable partner, the Stavros Niarchos Foundation Cultural Center (SNFCC), its sponsors, supporters, participants in its activities, photographers and all of its guests and associates since its inaugural event in 2019, for their continued support in this difficult global situation.
From the heart, we extend our best wishes for speedy recovery to those already afflicted, and caution and calmness to those who remain healthy.
Photojournalists are always out there with all the necessary protection measures to keep us informed.
All winners' and runner ups photos are available at https://apw.gr/en/yannis-behrakis-award-2020/ and https://apw.gr/en/apw-award-2020/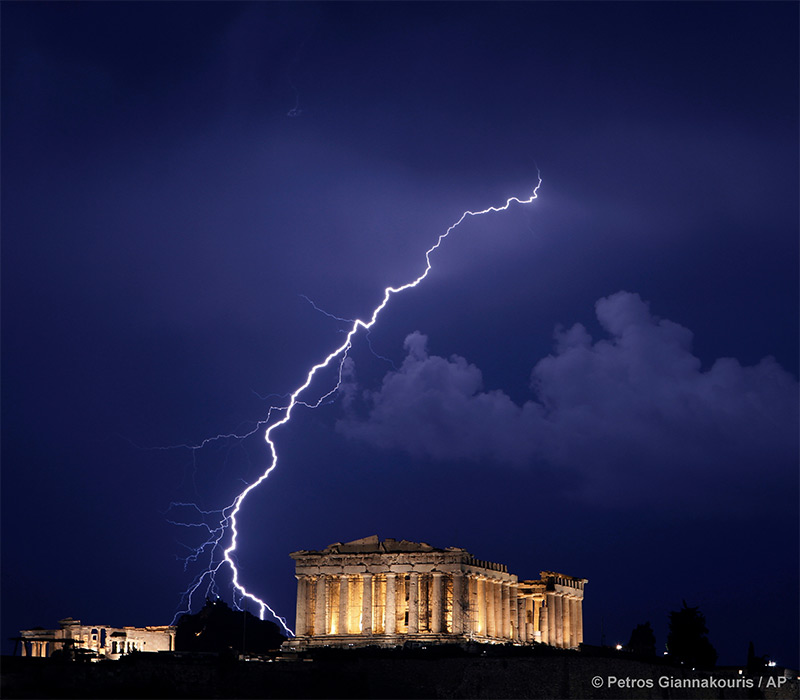 What is Athens Photo World?
Athens Photo World aims to showcase the work of photojournalists and their contribution to shaping the image of our world and documenting moments of history in the making, in times of political and social upheaval and reclassification.
At the same time, an intended purpose is to showcase Athens as the meeting point of photographers at a time of rapid transmission of images, news and developments.