Simela Pantzartzi was born in Heidelberg, Germany. She studied photography at Photokinissi College in Athens. She has been working as a photojournalist since 1985.
From 1985 until 1995 she worked as a freelancer. She covered the civil unrest in Romania against Communist leader Nicolae Ceausescu (1989).
From 1996 she works for Athens & Macedonian News Agency (ANA-MPA) and European Pressphoto Agency (EPA).
In 1997 she covered the Albanian civil war (World exclusive in South Albania).
In 2000 she travelled to Baghdad and photographed the consequences of the Gulf War in Iraq.
In 2004 and 2008 she worked for the Olympic Games in Athens (Greece) and Beijing (China).
Her work has been published in international newspapers, magazines and web sites such as IHT, NY Times, Stern magazine, Guardian, El Pais, Telegraph etc.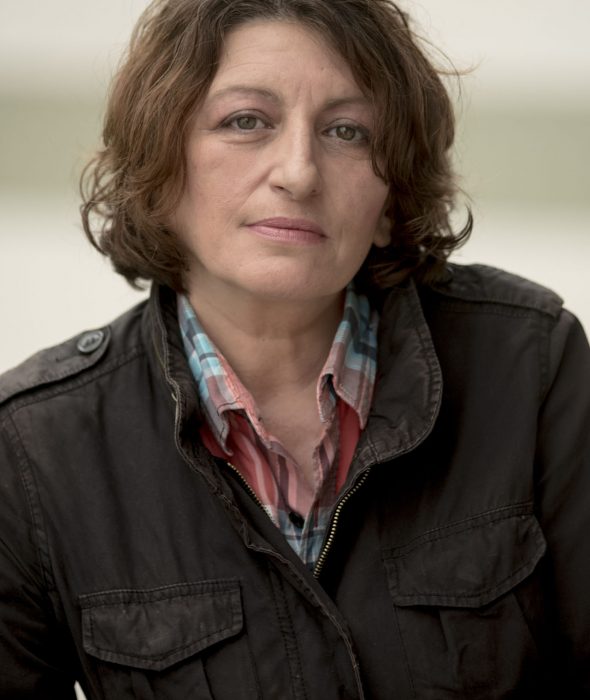 The historical relocation of the National Library of Greece
After three years of intense preparation for the historical relocation of the National Library of Greece (NLG), on January 8 2018, the transfer of the Library's collections started, from the Vallianio building to its new premises, at the Stavros Niarchos Foundation Cultural Center.
The transfer of the Library's collection was a painstakingly complex venture that lasted three months. It demanded the collaboration of more than 100 people on a daily basis, the adaptation of existing spaces and tools, and it took 235 truck drives to the SNFCC for its completion. To ensure a smooth operation for transferring the items as safely as possible, new, wheeled bookcases were custom-made in order to absorb rail vibrations and prevent the items from shifting. Permanent NLG's and external staff members, librarians, and conservationists, worked on items from the Library's general collection, in order to restore, preserve, and sort them into an RFID system. This intensive process allowed for the safe relocation of the NLG's collection, thus for each item to be identified electronically within the online catalogue.
NLG's relocation, which was realized thanks to the donation of the Stavros Niarchos Foundation and the auxiliary subsidy by the Greek state, marks the beginning of a new era for the NLG featuring enriched collections, updated digital services, modern applications, a new Public Library Section, and a renewed relationship with the public.